| | |
| --- | --- |
| Pirin Golf Club | |
*****

Pirin Golf & Country Club
Lifestyle. Exclusivity. Investment.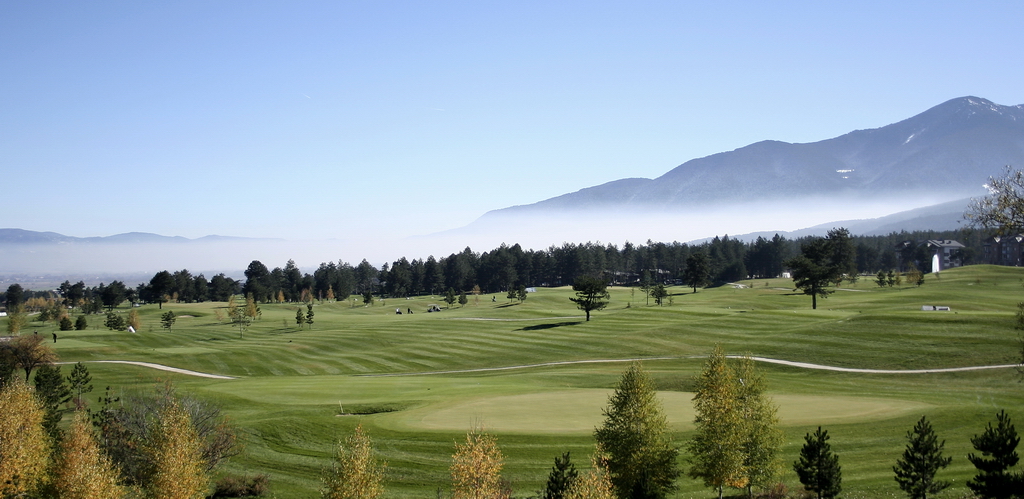 This new haven, to be found in south west Bulgaria, nestled in the beautiful valley of Razlog where three mountains meet – Rila, Pirin and Rhodope, is an international 5-star resort with an idyllic location at the foothills of the Pirin Mountain range.
The Pirin Golf & Country Club is a year-round resort offering the unique opportunity to play golf in the summer and to ski in the winter at the world renowned ski destination Bansko with 65 km of well maintained ski slopes suitable for both beginners and experienced skiers. Not forgetting to mention that Bansko is only 5 km distance from the Pirin Golf & Country Club.
Distances to local and foreign cities:
· 2h 30 min from Sofia airport, Bulgaria (165 km)
· 2h from Plovdiv airport, Bulgaria (150 km)
· 3h from Thessaloniki airport, Greece (217 km)
· 3h from Skopje, Macedonia (250 km)
· 4/5h to Chalkidiki peninsula, Greece
· 7h from Belgrade, Serbia (520 km)
"Balkanstroy"Jsc is a main shareholder and executor of the project and after finishing of its construction phase, the company will take over the resort management.
At Pirin Golf & Country Club we are already well prepared for success. A team of professionals is in place, all taking care for each and every detail to ensure an enjoyable and memorable stay for your entire family. We know that the special feeling and the friendly atmosphere will make you visit us again.
And we are looking forward to meet you at Pirin Golf & Country Club!
Pirin Golf Hotel 5* Pirin Golf Apartments Bars & Restaurants
Pirin Golf Club Golf Courses Golf Academy